The Front Entry
Consistent visual understory plane with unobstructed views.
Walkway through Meadow
Monolithic bluestone slab steps connecting the meadow to the main terrace, flanked by a transitional slope of lavender.
Entertainment Area
Balanced proportions: The open "Pole Barn" entertainment area, adjacent pool and sun patio provide a seamless connection to the landscape.
The Breezeway
The breezeway separates private and public guest parking courts. Use of bluestone as both pedestrian walk and vehicular drive. The monolithic bluestone slab step form is repeated in the steps through the meadow.
Beachside Planting Restoration
A mix of erosion control natives and salt-tolerant hardy species for year round interest.
Sun and Entertainment Patio
Pool and entertainment patio structure designed to mimic the bow of a ship overlooking the sound.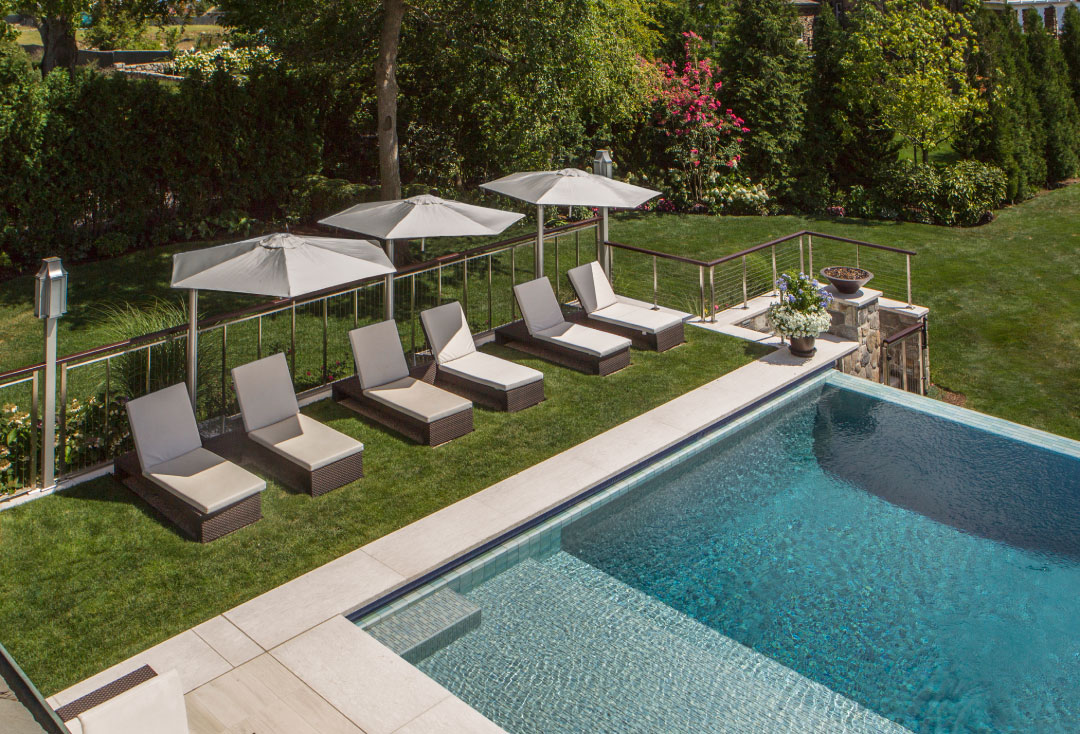 Rest and Relaxation
Balanced proportions: The lawn sun terrace, with gravel cutouts for lounges, reduces storm water run-off while integrating contrasting material and textures.
Seamless Transition
Custom glass tile and infinity edge create a visual seamless transition between land, sea and sky.
Peaceful Dining
Terrace with low maintenance, cool porcelain tile for comfort and reduced "heat island" effect.
Arrival Experience:
The granite slab entry court provides a glimpse of the pool entrance and an introduction to the overall natural environment. Custom designed entry lanterns.
Poolside Living
Hilltop residence with new pool and entertainment area.
25 Meter Lap Pool
Swimming amongst the treetops.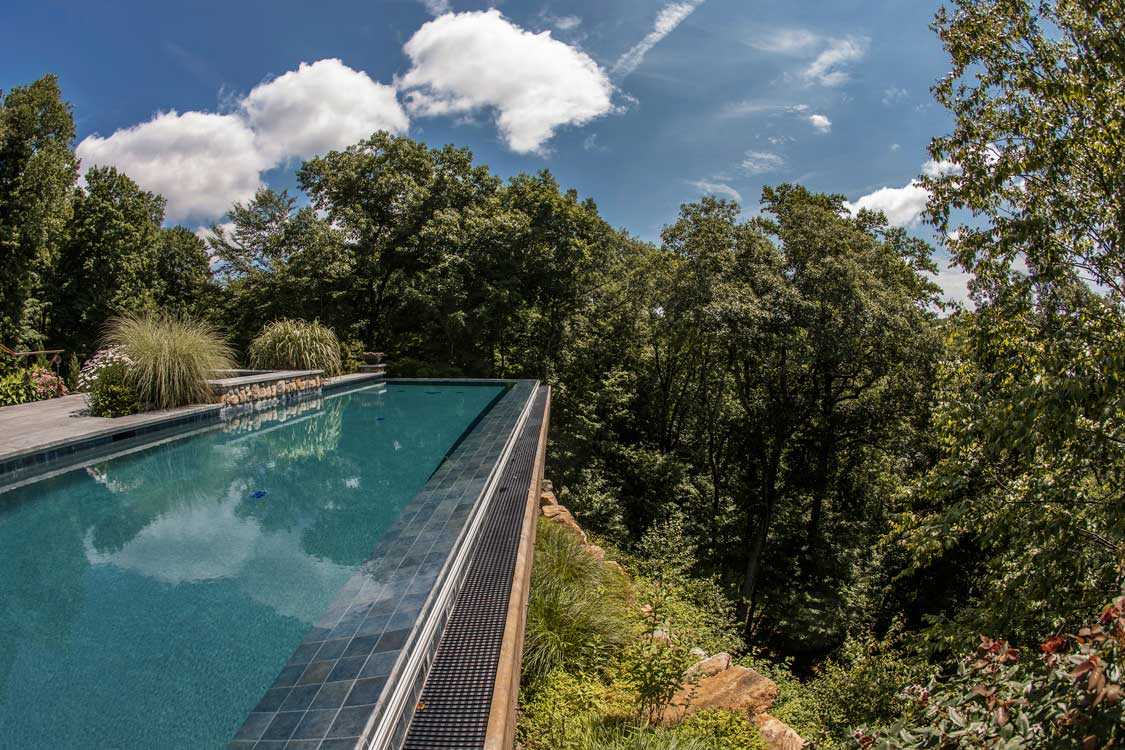 Edge Detail
The infinity edge gutter system was designed to capture pool overflow circulation while directing additional water to a storage tank provided beneath the patio terrace. The gutter and automatic cover track were carefully positioned to be out of the line of sight when viewing the pool from all practical vantage points.
Bridge & Waterfall
A stone bridge of recycled New England granite curbing connects the upper pool and spa terrace with the lower entertainment area. Boulders and stone slabs excavated during the pool platform construction were integrated into this series of waterfalls. The lower ponds are lined in river rocks with boulder benches providing a contrasting sensory experience from the lap pool above.
View from the Lake
View up from Blue Heron Lake, new dock and lake edge, and mitigation plantings.
Lakefront Border Plantings
Secluded privacy, casual seating areas, surrounded by year round garden interest.
Backyard Plantings
Lake front and stream inlet. Wetland mitigation plantings to improve water quality, while providing on-going seasonal interest.
Wildflower Meadow: View to the Garden
Nestled adjacent to a natural rock outcrop, the vegetable/sitting garden was located as a functional destination within our new meadow.
Garden Close-Up
Raised vegetable and cutting flower beds, amidst a pea gravel sitting space.
The Breezeway
The breezeway separates the entry courtyard from the parking area.
View from the Waterfront
New front entry walls, steps and cobblestone drive with adjacent planting buffer and drainage terraces.
View to the Long Island Sound
Custom stainless steel cable railing maintains picturesque views of Long Island Sound.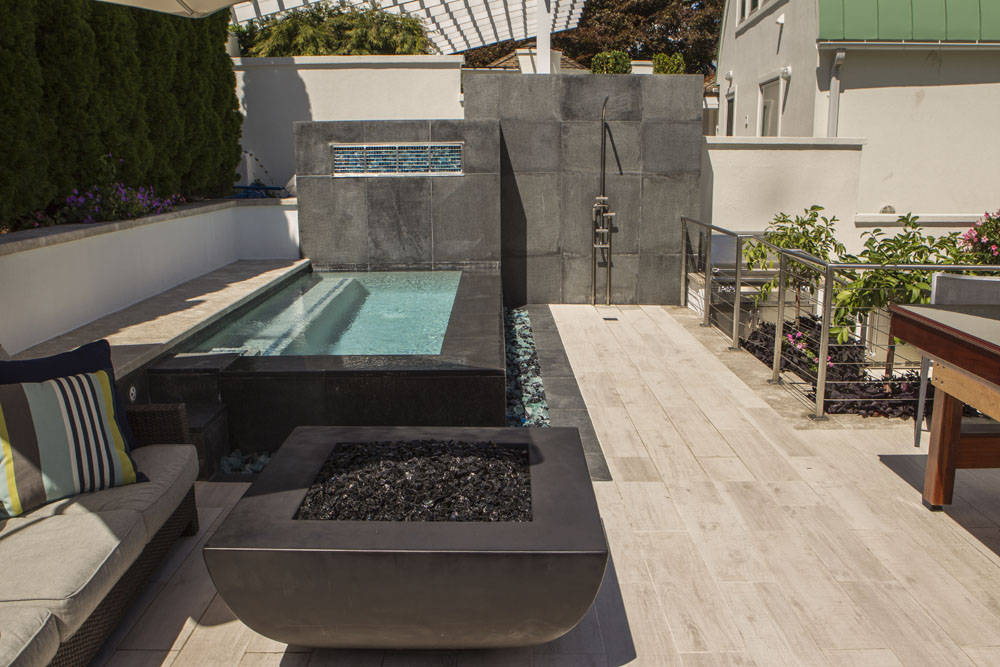 Mixed-Use Space
Therapeutic spa, water wall and convenient outdoor shower.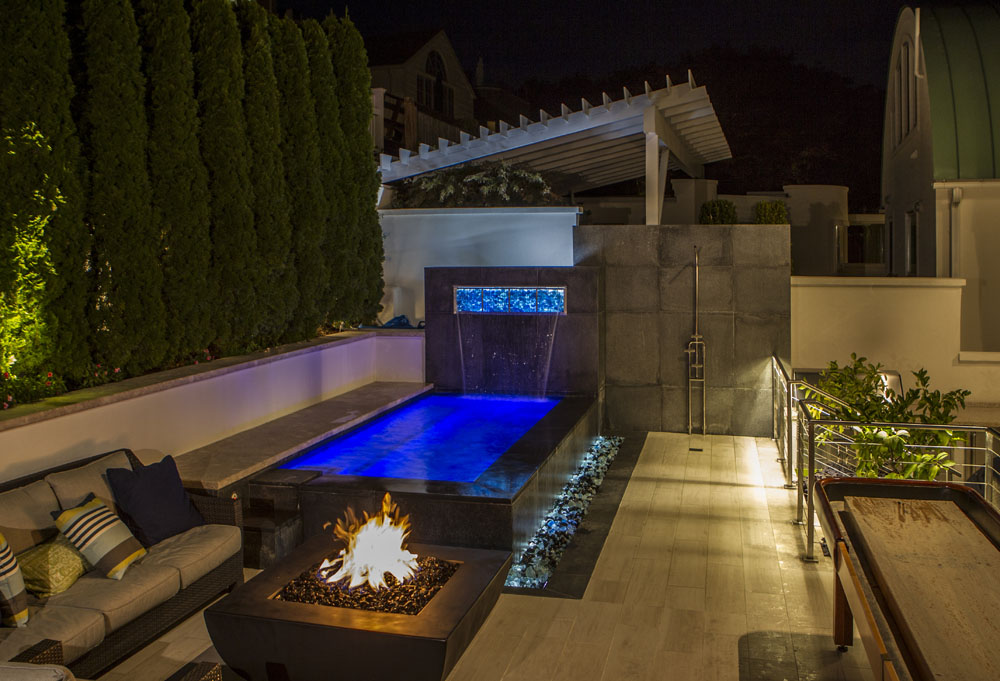 Evening Entertainment Area
Therapeutic spa with recycled glass vanishing edge trough & waterfall insert lit for evening enjoyment. Landscape Architectural Design
 
Wooded Entry
Natural wooded drive leading up to the Main House and all facilities. An understated entry lined with native flowering, shrubs and perennials.
Basketball Court
The basketball court was sited on one of the few level plateaus on the property. Extensive naturalized plantings retain the upper hillsides, anchoring and shielding the court. A custom curved pergola helps shade the sitting area.
Steps up to the Pool Pavilion
Natural bluestone steps up to pool pavilion. Conceived as a harmonious structure in the landscape, this multi-level pool pavilion was designed to provide a covered entertainment area adjacent to existing pool. A rooftop terrace for sunbathing and viewing the unique surroundings.
Evening at the Pool Pavilion
"Movie Night" a full 16' movie screen drops down from the Pavilion ceiling to be viewed from the pool as well as the bar and game tables.
graffiti mural timelapse fusco 2017 1280x720
The handball wall was customized for the client. It was painted by NYC Graffiti Artists. Watch them here.
Infinity Edge Pool
Crossing state line with water flowing from New York to Connecticut. Careful attention was paid to the design and layout of all site amenities; pool, entertainment terraces, sitting gardens and their orientation to the pond and garden pavilion.
A Green Transformation
The replacement of a deteriorating roof with a sustainable green roof alternative, reclaimed stone patio and sitting wall.
Green Roof
Spiraling waves of alpine plantings with flowering accents divided by recycled colored glass, quartz & jade stones.
The Textural Palette
Contrasting textures in stone and stucco take advantage of reclaimed fieldstone from the existing woodland and weathered bluestone from the main residence renovation.
Accessing the Green Roof
Stucco steps up to green roof.
View Across the Pond
Pastoral pond view. A forgotten resource, long neglected is now protected and enjoyed.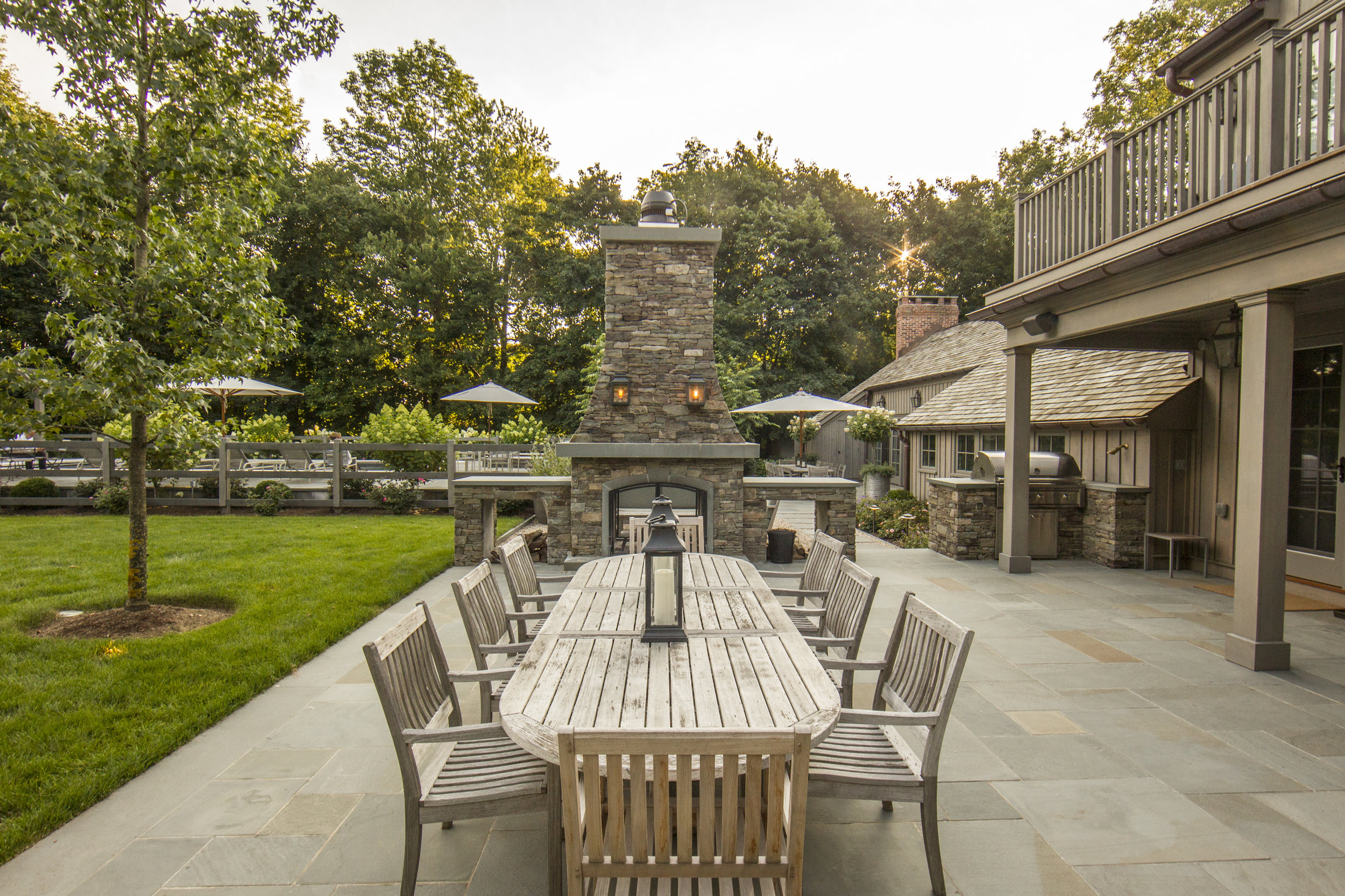 Back Country Sanctuary
Surrounded by a nature preserve and an old abandoned apple orchard, relaxed simplicity was the motto on this 4+ acre setting. The focus was on restoring the natural systems and provide a visual extension with the adjoining conservation area and riding trails.
The perimeter of the property was allowed to revert back to its original woodland state, supplemented with native understory plantings. Manicured lawns were replaced with wildflower meadows. Two rain gardens, sited within the wildflower meadows, function as storm water management. Louis Fusco Landscape Architect has been fortunate to have the opportunity to return to the property for seasonal review and assessment to ensure minimal maintenance, meadow health/diversity, and bio retention/rain garden success.
Beach Front Lookout
Forces of nature cause wear and tear on beach front properties. Landscape Architects must take this fact into consideration when designing sites that are close to the water.
The client wanted to restore, reinforce (post hurricane), renovate and create an outdoor entertainment space with the best amenities.
Louis Fusco was ready for the challenge of solving the water issues (drainage, sea surge protection) and create a first class entertainment area. Due to the proximity to the Long Island Sound, Louis brought the 'bow of a ship' detail into the design. Elaborate entertainment, dining and kitchen spaces were integrated into the 'bow' . The pool and patio terraces were programmed up close as an extension of the existing house plinth. Storage capacity was designed under the patio structure, and a sunken lawn area was placed behind concrete sea walls (double layer). Louis Fusco enhanced the beauty of this stunning property.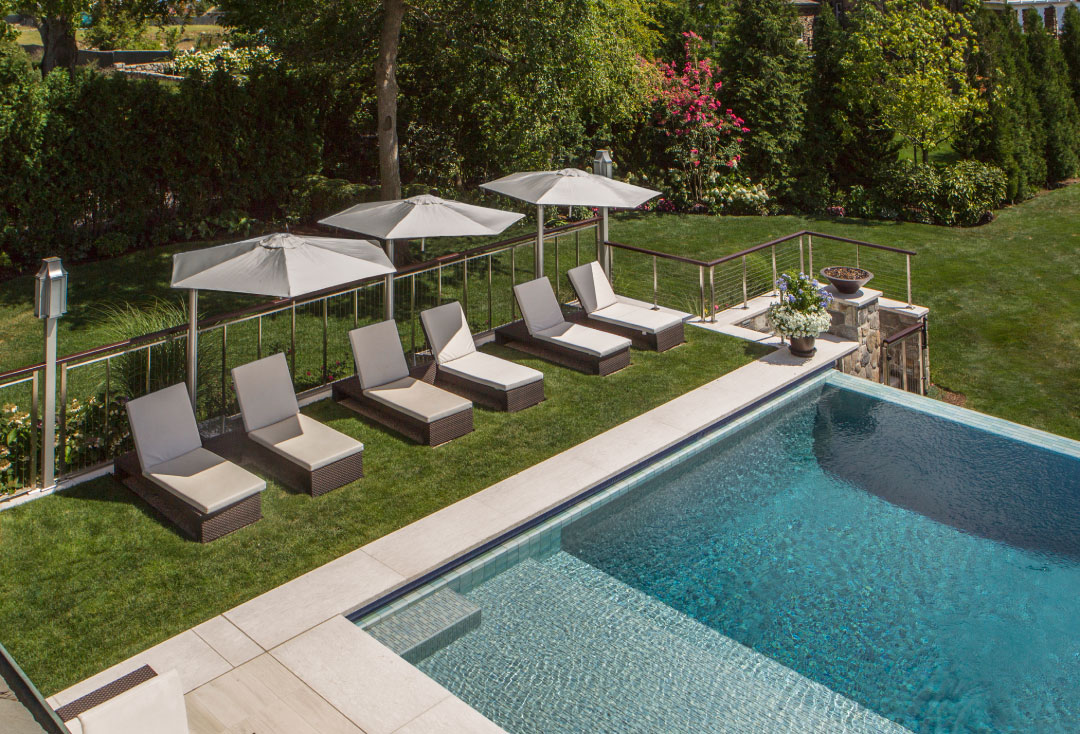 Treetop Vista
Creation of a 25 meter lap pool on a 2+ acre hilltop where flat terrain was essentially nonexistent was the challenge proposed by our clients. With a project site elevation drop of 86 feet and the existing residence perched on the only level ground, a dramatic site sensitive solution evolved, providing the opportunity to restore and reinvent the entire landscape.
Anchored into a rock ledge and cantilevered off a cliff, the infinity pool and spa complete an entertainment area with a modern aesthetic; allowing swimmers to float among the treetops.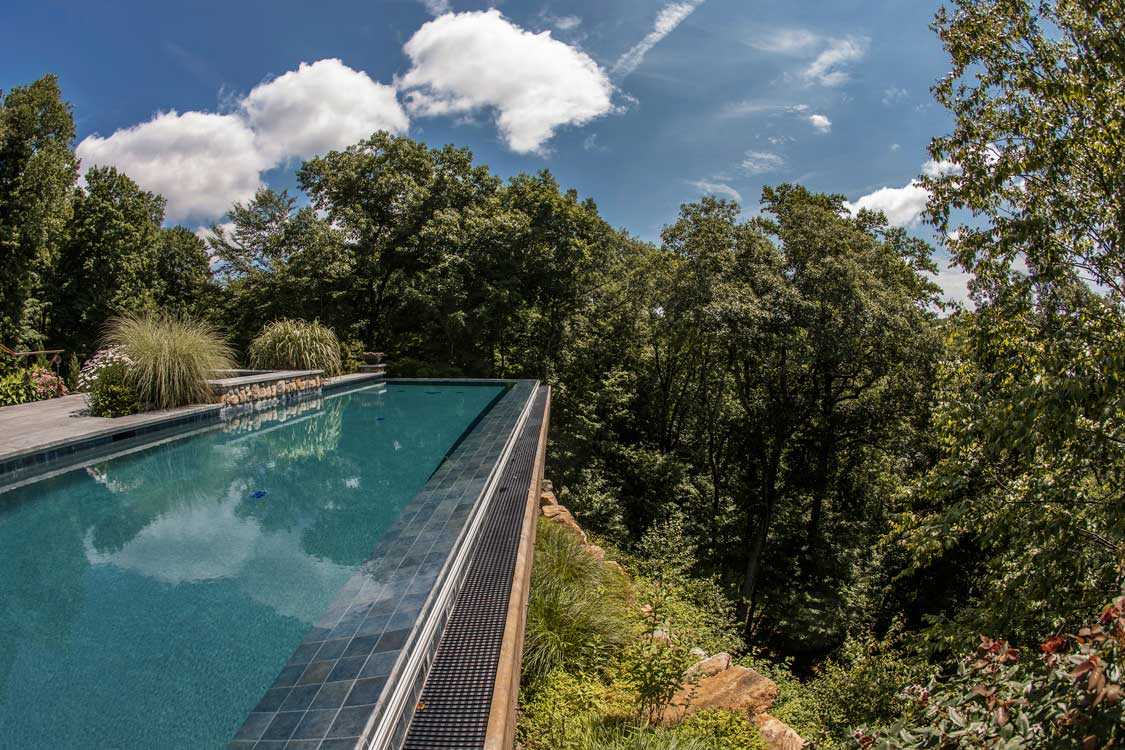 Lakeside Haven
Situated on a secluded cove of a private lake, this 4+ acre property was recently restored, allowing the natural setting to take center stage. Original specimen plantings were assessed for site relevance and attention to native appropriateness celebrating natural connections.
An extensive manicured lawn area was replaced with a wildflower meadow for seasonal interest. Once the meadow flourished it became one of our client's favorite destinations and led to the addition of a working vegetable and sitting garden for a pleasant place to experience the view out over the meadow to the cove.
Beachside Retreat
Beachside Retreat's allure is its proximity to the Long Island Sound. Yet, transforming this postage stamp property's restrictive outdoor space into an inviting functional environment meant initially addressing storm water and site runoff, and its potential impact on the adjacent beach and cove.
Downsizing from a multi-acre country property to less than a tenth of an acre was a major adjustment for our client. While accustomed to abundant outdoor entertainment spaces, a large pool, tennis court, guest parking and plenty of privacy, they were ready to welcome a new lifestyle approach. Extras were eliminated in favor of a flexible multi-use entertainment terrace, along with a plunge pool/spa that provides a view of the Long Island Sound.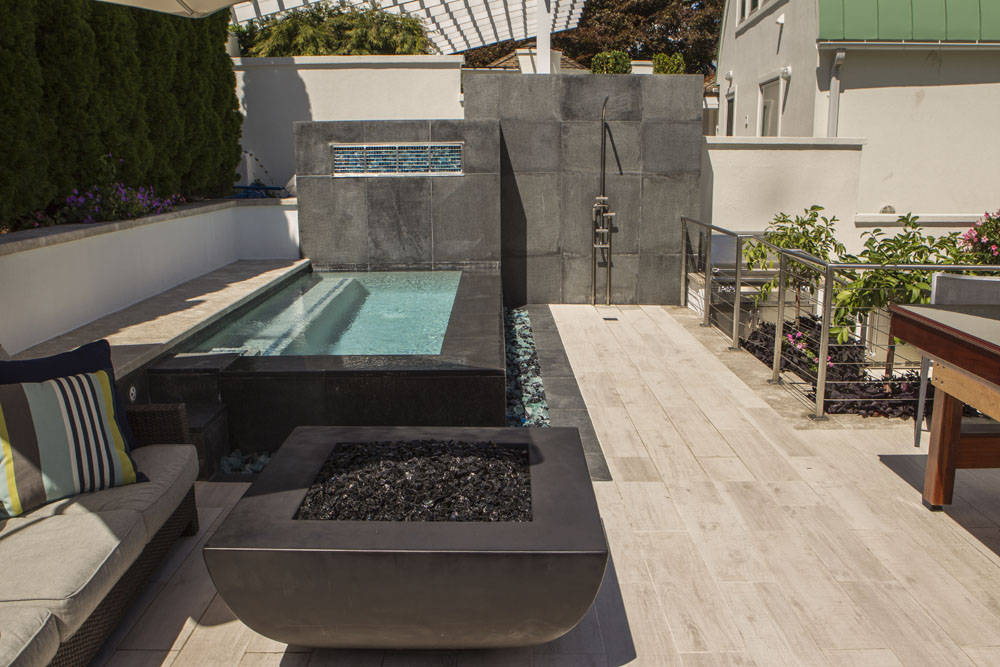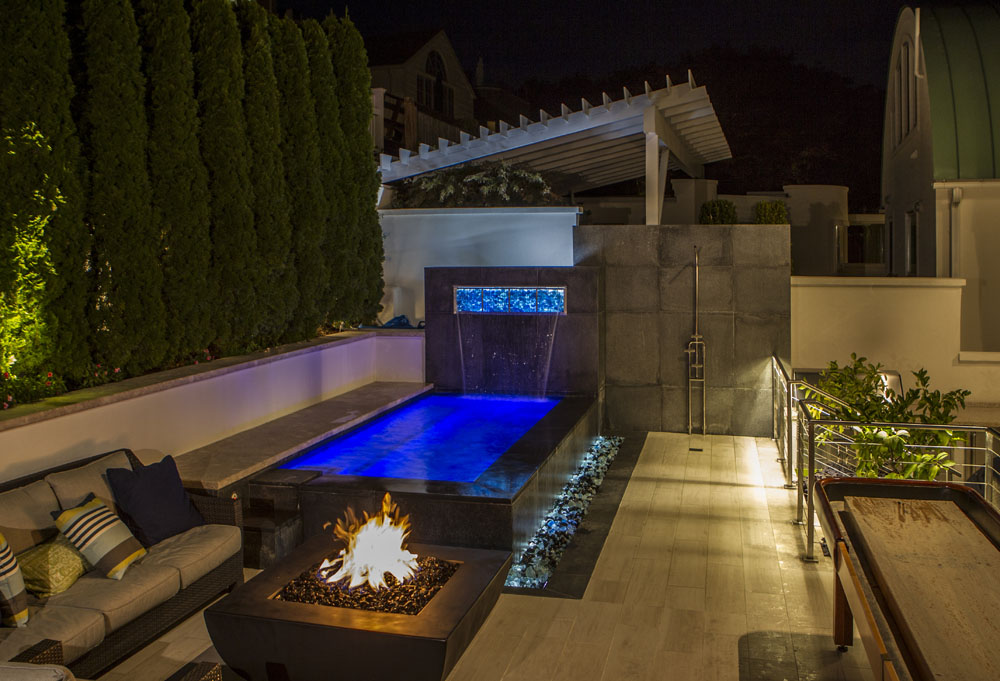 Hillside Retreat
Situated on a sloping hilltop one hour north of Manhattan, this weekend retreat boasts 27+ acres of recreation, adventure and relaxation opportunities, where the site and surrounding environment take center stage. What began almost 18 years ago with an informal meeting to discuss a potential tennis court, has evolved into one of those rare Landscape Architect/Client model relationships.
Year after year the Master Plan evolved; transforming a traditional country estate into a recreational park-like property which hosts annual parties of up to 600 guests. The guests enjoying almost every conceivable sport facility: from pool and tennis court to a regulation-size basketball court, sand volleyball, badminton, bocce, amphitheater, exercise/hiking trails, a putting green and an elevated pool/game area pavilion with a rooftop sunbathing terrace.
Grey Goose Pond
In 1905 Grey Goose Pond, was created to beautify the area while serving as a source of ice supply for refrigeration. In 1945 the Modernist Garden Pavilion was built for community meetings. It had since deteriorated and instead of choosing demolition, the clients embraced a renovation that incorporated the landscape with a sustainable roof.
The intimate sitting and garden terrace was created with slabs of weathered bluestone, native flowering shrubs and ground covers.
To provide access to the roof, a stone stairway was carved into the fireplace exterior, staying within the footprint of the original structure, and not blocking any of the interior views.

Weekend Retreat
Our clients were drawn to the pastoral beauty of this horse country property. After two years of trying to adapt to a newly purchased weekend retreat, they realized renovation inside and out was necessary. Working within the existing footprint, the Architect reorganized and updated the residence, while Louis Fusco Landscape Architects gave new life to the outdoor spaces, interior/exterior connectivity and overall setting.
Built on a flat plateau with a high-water table, the original house and yard suffered from periodic flooding. Replacement of a large asphalt drive and paved hardscapes with porous alternatives, complimented our newly installed drainage system and adjacent bio-retention rain garden. An awkward entry drive loop was redesigned allowing for adequate circulation and drop-off.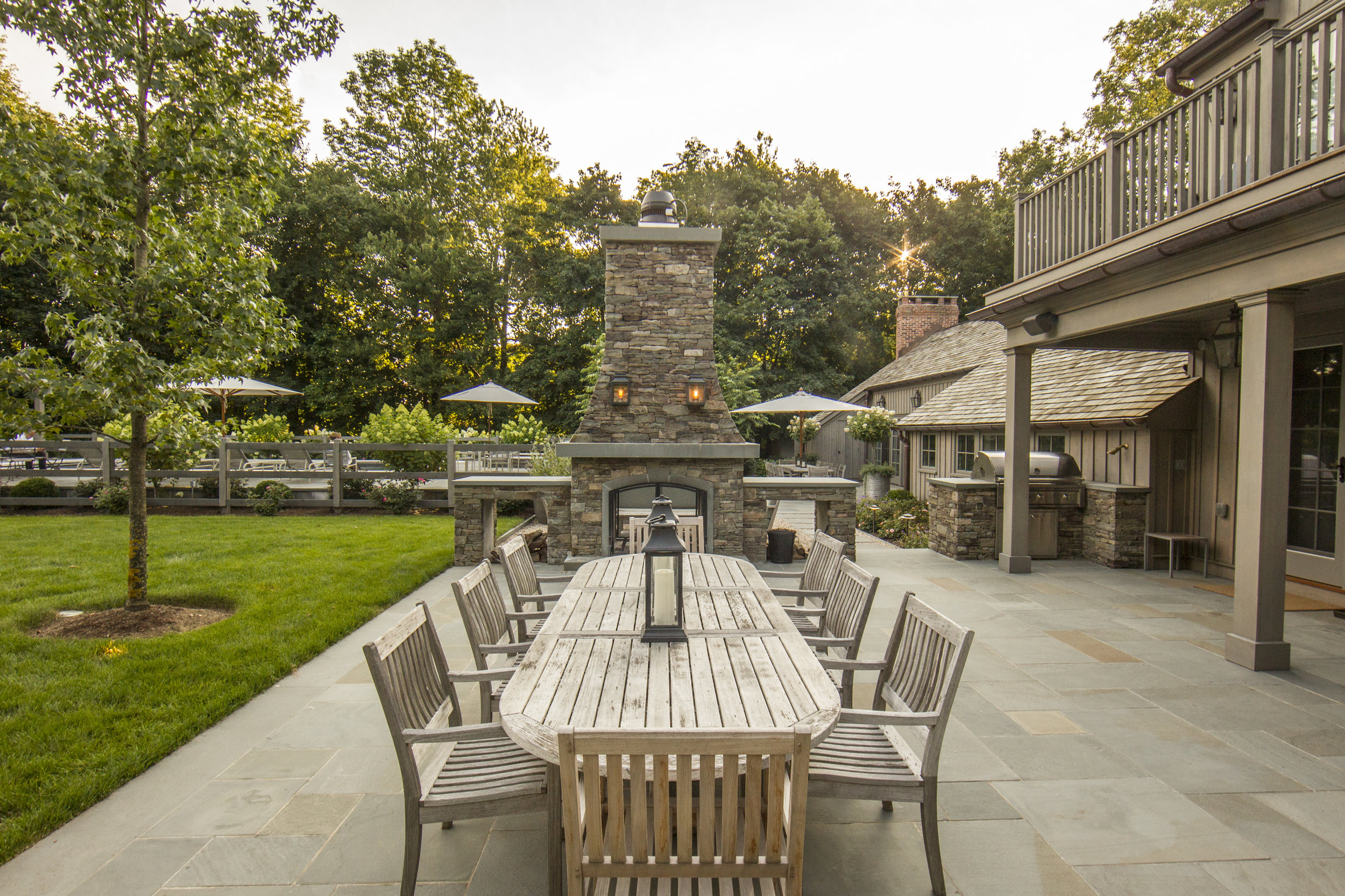 Project Renderings
Sample renderings in 3D